GO HUSKIES!!!
After brilliant Apple Cup outing, Michael Penix Jr. has secured his status among Husky legends
Nov. 27, 2022 at 1:20 am Updated Nov. 27, 2022 at 1:29 am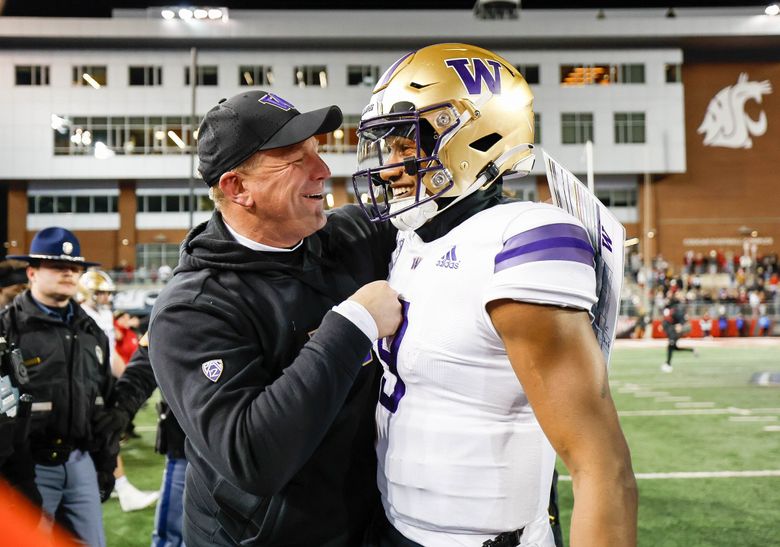 By
Seattle Times columnist
PULLMAN — He came to Washington as a mystery, an unknown quantity, full of promise and just as many questions.
He'll leave — whenever that happens, but ruefully to Husky fans, it may be sooner than later — as a bona fide legend.
Michael Penix Jr. assured his mythological status in the historical realm of UW quarterbacks, even if it's a one year-and-done tenure, in the most unambiguous and time-honored fashion: By rising to absolute brilliance in the two games that mean the most to those who favor purple.
Penix, who had already dazzled in a heated win over Oregon two weeks ago, was just as majestic in a frenetic, rousing and hard-earned 51-33 victory over Washington State in the Apple Cup on Saturday night.
APPLE CUP HUSKIES 51, COUGARS 33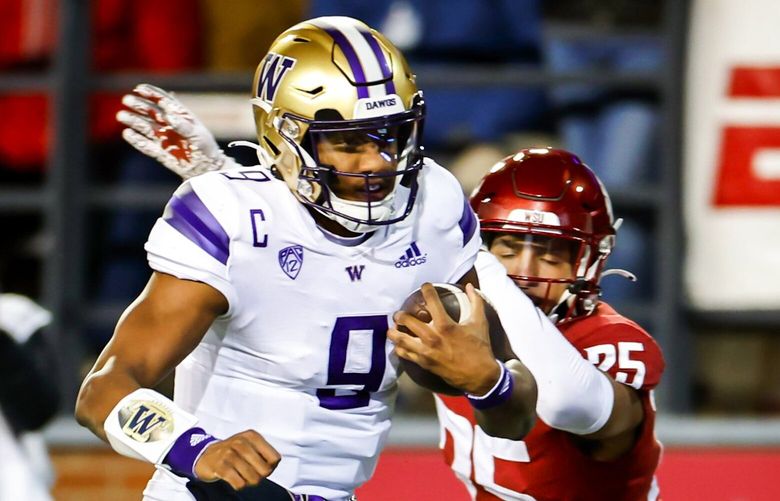 More
That's why delirious Husky fans surrounded Penix after the game and began to chant, "Heisman! Heisman! Heisman." That segued seamlessly into a new chant: "One more year! One more year! One more year!"
Afterward, Penix grinned and said, "That just shows they have a lot of trust in me," before pre-emptively sidestepping the unasked question about whether he will turn pro after the season — an increasingly likely scenario as his credentials mount and he keeps adding more and more pro-caliber throws to his scouting tape.
ADVERTISING
https://0e65ebcfb25813c0c9d5ccd72d05df0f.safeframe.googlesyndication.com/safeframe/1-0-40/html/container.html
https://0e65ebcfb25813c0c9d5ccd72d05df0f.safeframe.googlesyndication.com/safeframe/1-0-40/html/container.html
https://0e65ebcfb25813c0c9d5ccd72d05df0f.safeframe.googlesyndication.com/safeframe/1-0-40/html/container.html
"I just go out there and play my game and have fun,'' he said. "Whatever happens as far as that, that's out of my control. If they (fans) feel like that, I guess you could say it's a good thing. It's definitely not a bad thing. But I'm just trying to win football games."
https://platform.twitter.com/embed/Tweet.html?creatorScreenName=StoneLarry&dnt=true&embedId=twitter-widget-0&features=eyJ0ZndfdGltZWxpbmVfbGlzdCI6eyJidWNrZXQiOlsibGlua3RyLmVlIiwidHIuZWUiLCJ0ZXJyYS5jb20uYnIiLCJ3d3cubGlua3RyLmVlIiwid3d3LnRyLmVlIiwid3d3LnRlcnJhLmNvbS5iciJdLCJ2ZXJzaW9uIjpudWxsfSwidGZ3X2hvcml6b25fdGltZWxpbmVfMTIwMzQiOnsiYnVja2V0IjoidHJlYXRtZW50IiwidmVyc2lvbiI6bnVsbH0sInRmd190d2VldF9lZGl0X2JhY2tlbmQiOnsiYnVja2V0Ijoib24iLCJ2ZXJzaW9uIjpudWxsfSwidGZ3X3JlZnNyY19zZXNzaW9uIjp7ImJ1Y2tldCI6Im9uIiwidmVyc2lvbiI6bnVsbH0sInRmd19jaGluX3BpbGxzXzE0NzQxIjp7ImJ1Y2tldCI6ImNvbG9yX2ljb25zIiwidmVyc2lvbiI6bnVsbH0sInRmd190d2VldF9yZXN1bHRfbWlncmF0aW9uXzEzOTc5Ijp7ImJ1Y2tldCI6InR3ZWV0X3Jlc3VsdCIsInZlcnNpb24iOm51bGx9LCJ0Zndfc2Vuc2l0aXZlX21lZGlhX2ludGVyc3RpdGlhbF8xMzk2MyI6eyJidWNrZXQiOiJpbnRlcnN0aXRpYWwiLCJ2ZXJzaW9uIjpudWxsfSwidGZ3X2V4cGVyaW1lbnRzX2Nvb2tpZV9leHBpcmF0aW9uIjp7ImJ1Y2tldCI6MTIwOTYwMCwidmVyc2lvbiI6bnVsbH0sInRmd19kdXBsaWNhdGVfc2NyaWJlc190b19zZXR0aW5ncyI6eyJidWNrZXQiOiJvbiIsInZlcnNpb24iOm51bGx9LCJ0ZndfdmlkZW9faGxzX2R5bmFtaWNfbWFuaWZlc3RzXzE1MDgyIjp7ImJ1Y2tldCI6InRydWVfYml0cmF0ZSIsInZlcnNpb24iOm51bGx9LCJ0Zndfc2hvd19ibHVlX3ZlcmlmaWVkX2JhZGdlIjp7ImJ1Y2tldCI6Im9uIiwidmVyc2lvbiI6bnVsbH0sInRmd190d2VldF9lZGl0X2Zyb250ZW5kIjp7ImJ1Y2tldCI6Im9uIiwidmVyc2lvbiI6bnVsbH19&frame=false&hideCard=false&hideThread=false&id=1596773901874651136&lang=en&origin=https%3A%2F%2Fwww.seattletimes.com%2Fsports%2Fuw-husky-football%2Fafter-brilliant-apple-cup-outing-michael-penix-jr-has-secured-his-status-among-husky-legends%2F&sessionId=cf9012d288b2f21b60ff9dd96e4f79ae46c8d3a4&siteScreenName=seattletimes&theme=light&widgetsVersion=a3525f077c700%3A1667415560940&width=550px
On a day in which the Huskies racked up 703 total yards of offense, had two receivers over 100 yards (Rome Odunze and Jalen McMillan) with another, Ja'Lynn Polk, knocking on the door with 82, plus a 126-yard rushing effort by Wayne Taulapapa, Penix obviously wasn't a one-man show.
But if you want to pinpoint the biggest reason that the Huskies have made an astonishing turnaround from last year's 4-8 debacle that was capped with a lopsided Apple Cup loss, you need look no further than the arrival of Penix as a transfer from Indiana.
Well, the hiring of Kalen DeBoer was huge, too, but on the field, it was Penix more than anyone else who made the Huskies soar, quite possibly into a New Year's Six bowl game.
Penix on Saturday completed 25 of 43 passes for 485 yards and three touchdowns, and rushed for two more scores. One of his few disappointments of the night, in fact, was learning for the first time that the seeming double-pass from McMillan that resulted in a 30-yard Penix touchdown was not ruled to be a pass at all, but rather a lateral and thus officially a rush. Both Penix and McMillan were incredulous when they heard about that ruling in the postgame interviews, Penix believing he had a receiving touchdown and McMillan thinking he had thrown a TD pass.
Penix wasn't perfect — a third-quarter interception in the end zone from the 11 when Washington was driving for a touchdown that would have eased the considerable tension of what to that point was a taut, back-and-forth game, eliminated that characterization.
ADVERTISING
https://0e65ebcfb25813c0c9d5ccd72d05df0f.safeframe.googlesyndication.com/safeframe/1-0-40/html/container.html
But in what has become typical Penix fashion, he came right back after an ill-advised throw and led a vital scoring drive. It featured a 41-yard strike to Polk (to go along with a 47-yard TD pass to Odunze in the second quarter, and an electrifying 78-yard TD to McMillan on the very first play of the second half, among a slew of big strikes).
"I mean, he just keeps coming back,'' DeBoer said. "Nothing, as far as the situation that you're in, really fazes him. Even coming out and the first ball of the third quarter, that's not an easy throw, back across his body, kind of rolling out to the left and firing all the way across and putting it right where it needed to be for Jalen to be able to finish and get a touchdown.
"He just keeps fighting, keeps playing. I know there's probably a throw he'd like to have back. And that's part of it. But we can see the response. He continues to do it over and over again, all season long. I mean, he's one of the best. He's one of the best out there in the country. And there's so much belief from the team's end. He was the one that broke us down going into the fourth quarter and was so passionate. You can tell he's giving everything he's got every play."
Sign up for Fan Fix
Your dose of local sports news. Delivered Monday through Friday.Sign up
It had been a dazzling first half, full of trickery, audacity, and big play after big play as UW clung to a 28-27 lead at intermission.
The two teams combined for 630 yards of offense — a respectable amount for a full game that was jampacked into one half of action, complete with all sorts of heroic offensive showcases, and an extremely limited amount of defense.
There were shovel passes, long passes and punter passes. There was amazing and repeated displays of escapability by Cougar quarterback Cameron Ward, who was on the verge of being sacked time and again yet managed to wiggle and squirm out of danger, usually turning the near-disaster into some sort of backbreaking gain by WSU.
ADVERTISING
You want a fake punt that turns into a 36-yard completion? WSU did that. You want a pass from Penix to McMillan, then back to Penix, who bolted 30 yards for a touchdown? Check. You want not one, not two, not three, but four fourth-down conversions by the Cougars? Check, quadrupled. The only thing they were short on were punts (one by each team) and stops (you just needed one hand to count them).
Somewhere along the line, it became apparent that an epic shootout was in the works. But DeBoer said he had confidence that the Huskies were going to be the superior second­-half team, based on track record, and that played out with a vastly improved Washington defensive performance in the second half. Only two key turnovers in WSU territory kept the game close before the Huskies pulled away in the fourth quarter.
It was Penix at the forefront, just as he had been in a 408-yard, two-touchdown performance in Eugene. If you lead road victories against your two most heated rivals in a double-digit win season, it stamps you for program immortality, no matter how brief your stay.
"Man, it was amazing,'' Penix said. "Rivalry games, they're usually close games, real tough games. Every college football game is tough, but it's just something about rivalry games. There's a lot of tension building up to it. We just had to make sure we weathered the storm, controlled our emotion, and just went out and played free and executed at a high level. Once we did that, it was over."
It may be that the Penix era at Washington will soon be over, with one high-profile bowl game left to enhance his legacy. But the body of work he's already established will live on.
By winning an all-time Apple Cup shootout, Huskies become an all-time team
Nov. 26, 2022 at 11:27 pm Updated Nov. 27, 2022 at 12:45 am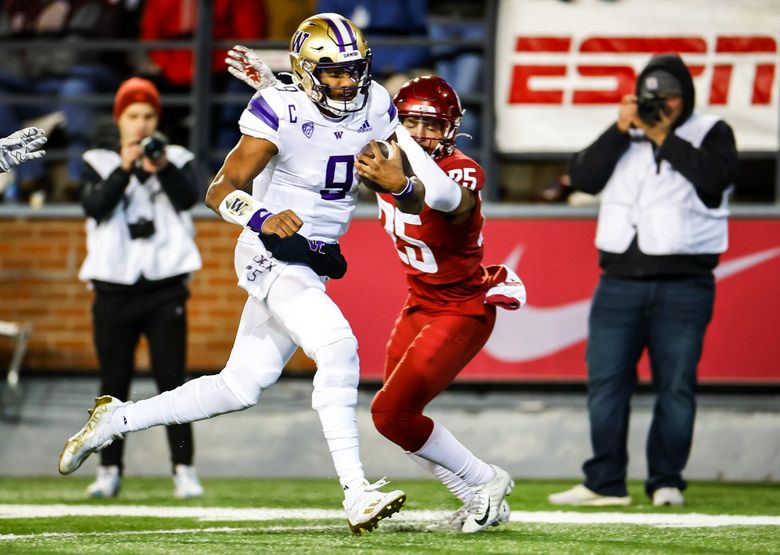 https://b887d7c66406fd83ec5c054817fe197e.safeframe.googlesyndication.com/safeframe/1-0-40/html/container.html
By
Seattle Times columnist
PULLMAN — Players will always tell you they want it easy. They'll say they prefer to sail instead of stress — to dominate from the start instead of pulling away in the final quarter.
But legacies aren't born out of coasting or cruising. They're formed by enduring blow after blow and responding in ways their fans simply can't forget. That's what the Huskies exemplified Saturday night by beating Washington State 51-33 Saturday night. More significantly, it's what they exemplified all season.
They are the embodiment of what it means to bounce back, and in winning one of the all-time great Apple Cups, solidified their place as one of the all-time great Washington teams.
"I have pointed out to players from the beginning of the week, and even touched on it a little bit last week, how winning 10 games is not easy," Huskies first-year coach Kalen DeBoer said. "Even in our great program's tradition and history, there's only been a few select teams over the 100 plus years. We've done that. It's been a special year."
There were a number of UW drives in which even the slightest lapse of focus could have ceded the momentum to the relentless Cougs, but those lapses rarely came. Behind a herculean effort from quarterback Michael Penix Jr., who finished 25 of 43 for 485 yards, three passing touchdowns and two rushing TDs, UW (10-2, 7-2 in the Pac-12) survived to reach a double-digit victory total one year after going 4-8.
APPLE CUP HUSKIES 51, COUGARS 33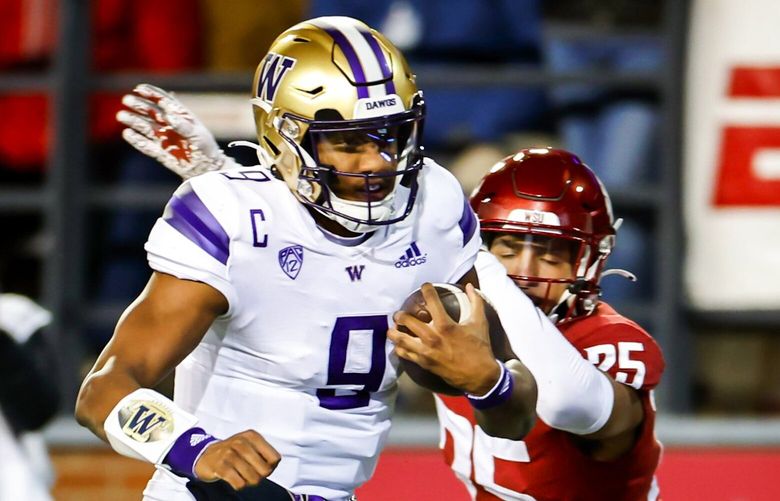 More
The No. 12 Huskies now have a strong chance to play in a New Year's Six Bowl, which seemed borderline unfathomable before the season began. So celebrate, Husky Nation —your team just proved to the country that it's among the nation's best.
ADVERTISING
https://b887d7c66406fd83ec5c054817fe197e.safeframe.googlesyndication.com/safeframe/1-0-40/html/container.html
https://b887d7c66406fd83ec5c054817fe197e.safeframe.googlesyndication.com/safeframe/1-0-40/html/container.html
In fact, celebrate as much as you can now — because that game likely took 20 years off your life.
The first half was the epitome of entertainment, even if it momentarily served as the death of defense. Washington and Washington State combined for just two punts through the opening 30 minutes, scoring on nearly every opportunity — albeit in contrasting manners.
The Huskies were the heavyweights throwing haymakers, overwhelming the Cougs (7-5, 4-5) on each possession. Trailing 3-0 early in the quarter? Washington found the end zone on a four-play, 44-yard drive that ended with Penix connecting with Ja'Lynn Polk on a 26-yard touchdown pass. Trailing 10-7 later in that frame? The Huskies found the end zone on a seven-play, 79-yard drive that ended with Penix hitting Rome Odunze for a 47-yard TD.
Trailing 17-14 in the second quarter? UW went 75 yards on four plays — this drive ending with Penix taking a backward pass from Jalen McMillan 30 yards to the end zone. And down 24-21 with less than two minutes in the second quarter, Penix capped an eight-play, 83-yard drive with a four-yard scoring run.
By halftime, the Huskies had accumulated a ridiculous 326 yards on an even more ridiculous 10.2 yards per play (including 18.6 yards per completion). And yet they led only 28-27 due to a WSU team that survived as much on will as it did skill.
The Cougars didn't overwhelm Washington in the first half Saturday. They exhausted them with jab after jab and uncanny fourth-down fortitude. Down 4 and facing a fourth-and-1 on their own 34 in the first quarter, WSU punter Nick Haberer completed a 36-yard-pass to linebacker Daiyan Henley — extending a drive that had a second fourth-down conversion and ended with a Wazzu touchdown.
ADVERTISING
Facing a fourth-and-10 from Washington's 34 on the ensuing drive, Cougs quarterback Cameron Ward found receiver Robert Ferrel for a touchdown to put his team back up by three. And facing a fourth-and-7 from Washington's 34 one drive later, Ward completed a 14-yard pass to De'Zhaun Stribling that set up a touchdown two plays later.
Four fourth downs, four conversions — all adding up to 21 points. No surprise that Washington State averaged more than four yards less than Washington per play in the opening two quarters en route to its 304 first-half yards. The Cougs just kept responding — just not as well as the Huskies.
"I mean our bond as an offense is so tight. We can really go through anything together," McMillan said. "We always just lean on each other."
Sign up for Fan Fix
Your dose of local sports news. Delivered Monday through Friday.Sign up
Peak leaning came on the first play of the second half, when Penix connected with McMillan for a 75-yard TD pass to put UW by eight. Unsurprisingly, the Cougs answered and continued needling Washington.
They forced a fumble and scored a touchdown to make it 35-33 after a failed two-point conversion. Then they intercepted Penix in the WSU end zone.
But despite their fight, they couldn't match the Huskies might, as Washington eventually pulled away in the final 15 minutes. Valiant effort for WSU, but the victorious effort was Washington's.
There will be plenty that the Huskies regret this year — particularly that seven-point loss to Arizona State midway through the season. But there won't be much they forget — and what they did Saturday will be etched in their and their fans' minds for a lifetime.